The Waterfront Hotel
Sliema
Sliema
Contemporary & Chic Hotel with Majestic Views
Small & Friendly City Centre Seafront
Highly recommended by Malta Paradise!
The stylish Waterfront Hotel stuns guests with is impeccable location in central Sliema, offering close proximity to the city's thrilling amenities with dazzling views in the backdrop.
Why Holiday Makers Love it
Beautiful views of the Sliema waterfront
Modern & Comfortable Rooms
Restaurant with sea views
Easy Central Location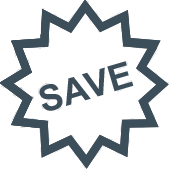 Special Offers available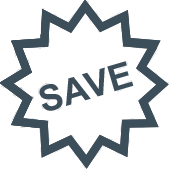 Special Offers available
Duration:
Stay:
This offer can be combined with other offers.
With a dramatic position on the Sliema waterfront, the aptly titled Waterfront Hotel is all about its prime location, providing guests with not only easy access to Sliema's vibrant amenities but also jaw-dropping views of its lovely surroundings including the tranquil Mediterranean.
As one of the leading hotels in Malta, The Waterfront welcomes guests with its elegant décor and comfortable high-end furniture, a theme that is prominent in all 165 of its hotel rooms and suites as well as the communal areas, with neutral colour combinations to exude a refreshing atmosphere where guests can unwind after a long day of exploring the island. There is a wide range of accommodation options to suit your preferences. The hotel is also ideal for spending time indoors and enjoying the excellent facilities such as the stunning indoor pool or lounging on the sun terrace located on the 10th floor while admiring mesmerizing views of the Sliema port, Manoel Island and the capital Valetta. 
The hotel is a year-round favourite, with the shopping mall, Sliema ferries and an array of public transport options being within walking distance, providing guests with the convenience of exploring the Malta and the islands with utmost ease. The Waterfront is also ideal for destination holidays such as weddings and honeymoons, as well as being well-equipped for conferences and business meetings.
Please note that some services and amenities may not be available during low season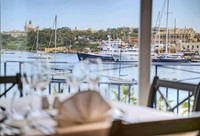 Dining against lovely views
Guests have a choice of dining options at their service. Buffet-style breakfast is served at the main hotel restaurant, The Regatta Restaurant, which is located on the 10th floor where guests can start their day against beautiful views. Regatta is also perfect for dinners (buffet or set menu), with meals created using local ingredients and prepared exquisitely to perfection for guests' satisfaction. Apart from Regatta, guests can also take it to the Lobby Bar which is equally ideal for breakfast, lunches and light dinners.
The perfect way to unwind
The Waterfront is well-equipped to deliver a lovely fitness experience. With its indoor pool and fitness centre located on the 10th floor, guests will undoubtedly look forward to each visit as they dip in the indoor pool or carry out their fitness regime with stunning views in the backdrop.
Where is the The Waterfront Hotel?
The Waterfront Hotel is merely a 15-minute walk from Tigné shopping mall, and as well as a plethora of restaurants, bars and cafes being in close proximity. The Sliema Ferry is just 600m away, with Malta International Airport conveniently being only 20 minutes' drive from the hotel.
15 minutes walk from Tigné shopping mall
Sliema Ferry Port is 600 m away
Malta International Airport is a 20-minute drive away.
The Waterfront Hotel
Sliema