TripAdvisor Traveller Rating
Qawra
TripAdvisor Traveller Rating
Quiet and Inviting Hotel With Home Comforts
Small & Friendly Budget
Highly Recommended by Malta Paradise!
With its homely atmosphere and Maltese charm, the 3* Sunflower Hotel offers relaxed
accommodation in a popular tourist area. Everything is clean and comfortable, including
the lush outdoor pool and the surprisingly spacious rooms.
FREE WiFi
Why Holiday Makers Love Sunflower Hotel
Relaxing Atmosphere
Clean & Tidy Rooms
Amusing Rooftop Pool
Well Located Hotel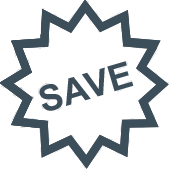 Special Offers available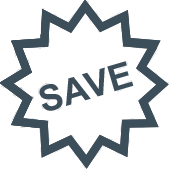 Special Offers available
Duration:
Stay:
This offer can be combined with other offers.
Enjoy the best of Malta without jumping away from your comfort zone at this small Mediterranean hotel in Qawra. Well appointed with all the necessary services and furnishings, it's a hotel that immediately makes you feel at ease and at home.
There's nothing overly flashy or glamorous about the three-star Sunflower Hotel. However, the hotel has perfected the simple things that can make a holiday so relaxing. Rooms are spacious, featuring large comfortable beds, air conditioning and good quality bathrooms. The furnishings mix a quaint Maltese style with a relaxing international quality. The Wi-Fi is good and everything is kept neat and clean.
It's the location that really sets the Sunflower Hotel apart. You're staying in a very quiet part of Qawra, far from the noise and bustle. However, you only need to walk five to ten minutes to enjoy a wide choice of bars and restaurants. The beachfront promenade is just as close, with its seafront cafes and shingle beaches. You'll find a bus stop 200 metres away and you can travel almost everywhere on the island by easy and cheap public transport. The slightly remote location also helps the hotel keep their prices low.
While the hotel is off the beaten track it has most of the holiday amenities. A heated indoor pool is complemented by a seasonal rooftop pool (May to October). There's a small wellness centre along with a restaurant and two bars. You can comfortably spend the whole day relaxing at the hotel, knowing that the attractions of Qawra and Bugibba are just around the corner.
Please note that some services and amenities may not be available during low season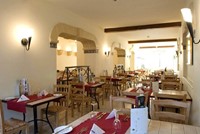 Cosy Buffet Dining
The welcoming Geranium Restaurant serves up large breakfast and dinner buffets, mixing Maltese cuisine with international dishes. You can dine inside or on one of the two open terraces. Lunch is served at a poolside bar during summer and there's also an indoor bar for drinks around the fireplace during winter.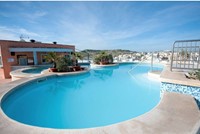 Panoramic Rooftop Views
With its 360-degree views the rooftop swimming pool and terrace is an idyllic place to unwind. It's open May to October. Two quieter and more shaded terraces are found nearby and there's also a heated indoor pool for winter.
Reviews
Where is the Sunflower Hotel?
Tucked away from the crowds but still central and close to the coast, the Sunflower Hotel has a quiet location in the popular resort area of Qawra.
23 minutes drive from St. Paul's Islands
22 minutes drive from St. Paul's Cathedral
20 minute drive from Museum of Natural History
35 minute transfer from Malta International Airport