Marriott Hotel and Spa
St Julians
St Julians
Luxury hotel with Mediterranean spa located near Balluta Bay beach!
Luxury
Highly recommended by Malta Paradise!
Located in St Julian's the 5* Marriott Hotel & Spa provides guests with well-appointed premium rooms and luxurious suites. The hotel boasts an outdoor pool and terrace area with beautiful views of Balluta Bay!
FREE WiFi in Rooms & Public Areas
Why Holiday Makers Love Marriott Hotel & Spa
Luxury Spa Centre
Beautiful Views
Modern & Comfortable Rooms
Easy Central Location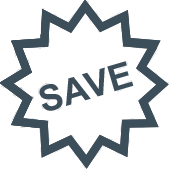 Special Offers available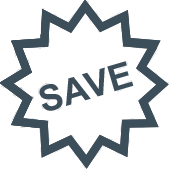 Special Offers available
Duration:
Stay:
This offer can be combined with other offers.
The luxury Malta Marriott Hotel & Spa is located just metres from the famous Ballutta beach, situated on the tranquil seafront promenade where guests are a short walk from restaurants, bars and historical sites.
Providing guests with a luxurious atmosphere this 5-star delight features well-appointed rooms and suites which ensure guests have a comfortable stay. All rooms are fully air-conditioned and include a walk-in shower, flat screen-TV, mini bar and many more facilities.
The onsite M Club Lounge offers panoramic views of Balluta Bay and is the ideal area to sit back and relax, whereas the rooftop pool and sun terrace invite guests to soak up to sun. The hotel features 12 conference and meeting rooms which are all located on one floor.
Please note that some services and amenities may not be available during low season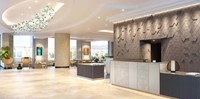 Swim and sunbathe
The rooftop pool is the best spot for sunbathing and soaking up the sun! The heated indoor pool in the spa is the perfect place to relax and unwind after a day out sightseeing.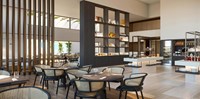 Fully Equipped Spa
The spa centre provides an array of treatments and includes 9 treatment rooms, a heated indoor pool, Jacuzzi, sauna, steam room and squash court.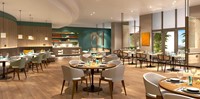 5 diverse restaurants!
With a selection of five onsite restaurants and three bars, the Marriott Hotel provides a wide selection of eateries to choose from. The Villa serves as the hotel's signature venue with Taro offering contemporary dining, while Nori specialises in eclectic cocktails and Asian street food.
Where is the Marriott Hotel and Spa?
The Malta Marriott Hotel & Spa is located in St Julian's resort which is a bustling town offering a wide range of entertainment. The hotel is a walking distance from St Julian's nightlife area and the main shopping district of Sliema.
Short walk from Balluta Beach
15 minutes' drive from Valletta City
25 minutes transfer from Malta International Airport
Marriott Hotel and Spa
St Julians