TripAdvisor Traveller Rating
Gozo
TripAdvisor Traveller Rating
Modern residence in the heart of historic Victoria!
City Centre
Highly Recommended by Malta Paradise!
The Downtown Hotel occupies an ideal central location  in Gozo's main town of Victoria. The hotel boasts a rooftop splash pool and restaurant, and lies within easy walking distance of the shops, bars and restaurants of the town centre. 
Why Holiday Makers Love Downtown Hotel
Great Location
Wonderful Staff
Very Clean and Tidy
Amusing Rooftop Pool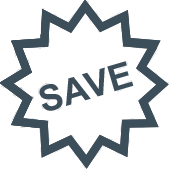 Special Offers available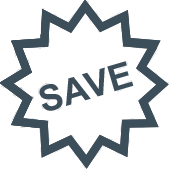 Special Offers available
Duration:
Stay:
This offer can be combined with other offers.
A recent addition to the hotels occupying Malta's idyllic sister island of Gozo, The Downtown Hotel is located within close proximity to the richly historic town of Citadel, the Astra theatre and Villa Rundle gardens. Gozo's capital city of Victoria with its variety of bars, restaurants, retail outlets, are a mere stone's throw away from the property.
Situated in the very heart of Gozo's main town, the hotel itself has a chic modern design and forms part of a complex; encompassing a shop, wine and sports bar, music club and children's play area.  All floors are accessible via lifts with free wifi available throughout. Staff at the Downtown are focused on providing a truly personalised service and go out of their way to ensure your stay with them is a memorable one. Guest accommodation is well equipped, with TV, minibar, air conditioning and ensuite facilities, and the majority of rooms benefitting from a private balcony.
A variety of culinary delights are on offer in both the Downtown Restaurant and Downtown Café, offering a daily a la carte menu and a lavish carvery buffet, available every Saturday night and Sunday lunchtimes. For a more relaxed, informal get together, a mouthwatering selection of pizza and pasta dishes are also available. At the start of the day, a full English breakfast can be sampled by those looking to recreate a taste of home, while the Downtown's well stocked bar provides the perfect backdrop for a pre-dinner tipple. The hotel possesses a variety of facilities for guests to enjoy, including a rooftop pool and sundeck with integrated Jacuzzi, boasting beautiful views of the city and countryside and the Funtown Play Area offers a world of entertainment for little ones aged 4 to 12 years. From June to October, the Downtown Hotel operates a courtesy bus providing the opportunity to experience the wealth of beaches that Gozo has to offer. 
Disabled Facilities: Rooms with facilities and access for people with special needs
Please note that some services and amenities may not be available during low season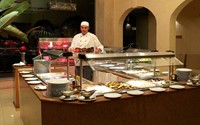 What a choice!
The property offers an a la carte dining experience, or a more informal relaxed taste of all things Italian, within either the hotel's Restaurant or Cafe. Drinks and snacks from the hotel bar can be enjoyed daily from 07:00 until late, while Lucy Jack's Sports Bar and Grill provide the perfect place to relax and unwind after a day by the pool.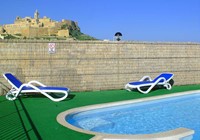 Rooftop relaxation!
The Downtown Hotel features a rooftop splash pool with sun terrace, providing the perfect place in which to sit back and soak up the sunshine.
Reviews
Where is the Downtown Hotel?
The Downtown Hotel occupies a central location in the heart of Victoria, Gozo's main town. The historic Citadel, the gardens of Villa Rundle and a selection of shops, bars, retail outlets and restaurants are all within easy walking distance of the hotel.
1 hour 35 minute transfer from Malta International Airport