Discover the tranquility and beauty of Malta's northern tip
A large but low-key resort town in the north, Mellieha is ever popular with older visitors seeking a beach holiday.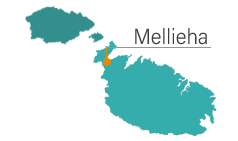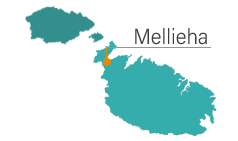 Holidays and Hotels in Mellieha
This is a beautiful part of the country that has retained its serene Mediterranean feel. Set in a sheltered bay, the Mellieha beach has lovely blue-green waters that are shallow and very safe for swimming, another reason for the perennial popularity. There's a wide choice of accommodation, including self-catering apartment-hotels and large resorts. For ten months a year, Mellieha gives off a very laid-back and peaceful atmosphere. July and August are very popular with families and the area can feel a little crowded. Fortunately, there isn't just one beach but many to choose from if you don't mind a short walk or drive.
Most visitors take advantage of the proximity to the ferry terminal and make a trip to Gozo, Comino, or both islands. Ghadira Wetland Reserve is a haven for birdwatching and a great place to escape the crowds in summer. Also in the area you'll find many sublime coastal cliff walks, a dozen remote and mostly hidden coves, plus the ancient temples of Skorba and Ta Hagrat. Malta isn't a big island and it's only a 45-minute drive to Valletta and St. Julian's, even shorter to the attractions of Central Malta.
Mellieha is fully focused on holiday makers and there are some great deals to be found outside July and August. With so much accommodation the prices have always stayed very competitive. It is not the most authentic part of Malta but a lot of visitors love that you can find every possible home comfort within the quiet Mellieha streets. And when the sun shines 300 days a year, this northern part of the island is always an idyllic choice for a getaway.

Things to see in Mellieha
The broad golden sands are arguably the finest on the island and they're backdropped by the complete range of tourist facilities. The rest of Malta's northern tip has a surprisingly diverse range of attractions. Many of the island's most popular family attractions are located here, along with some stunning natural landscapes and the ferry terminal for a trip to nearby Gozo and Comino islands.