Discover CominoMalta's empty and spectacular little sister of an island.
There's more to Comino than the world-famous Blue Lagoon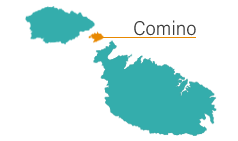 Discovering Comino on a Malta Holiday
The famous reason to visit Comino has always been the Blue Lagoon, a destination that is even prettier than the photos suggest. Its soft azure waters are astonishingly clear, creating a vast natural swimming pool that is accessed from a rocky shore. Boat trips to this special place leave from all over the island of Malta, with full-day trips from Sliema, half-day trips from St. Paul's Bay, and two-hour excursions from the north. This does mean that the Blue Lagoon can become very crowded in July and August. Some boat trips also take visitors to the equally impressive but less popular Crystal Lagoon, where you can only swim by jumping from the boat.
There are two sandy beaches on the island, one that is private and one at Santa Marija Bay that is public but usually deserted if it is not school holiday season. Spend the night on the island and you can have the natural attractions all to yourself. The whole place feels deserted when the day trippers have left, although an island with a population of three has very little choice of hotels. A more convenient and cost-effective idea is to use the public ferry service between Comino and Cirkewwa. This creates more freedom to explore and you can time a visit to avoid the late-morning to early-afternoon rush of visitors.

Things to do in Comino
If Gozo is Malta's quieter and smaller sister, Comino is Gozo's even smaller sister. Boasting an official population of just three people, it's a wild and mostly deserted island framed by one of the world's most spectacular coastlines. The lagoons are crystal clear, the sunrises and sunsets are sublime, and it's hard to go five minutes without taking another photo.