Ta Frenc Apartments
Qawra
TripAdvisor Traveller Rating
Qawra
TripAdvisor Traveller Rating
Light, Spacious and Superbly Appointed Apartments in Gozo!
Family Small & Friendly
Highly Recommended by Malta Paradise!
Located in the secluded Gozitan countryside, Ta' Frenc is the perfect choice for a relaxed self-catering holiday away from the crowds. Expect peace, privacy, lots of space, and lazy days snoozing beneath the palm trees.
FREE WiFi
Why Holiday Makers Love Ta Frenc Apartments
Perfect For Families
Big Apartment in Quiet Location
Peaceful Location
Self-catering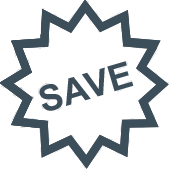 Special Offers available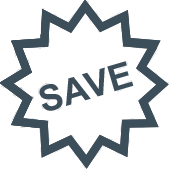 Special Offers available
Duration:
Stay:
This offer can be combined with other offers.
Getaway into the Gozitan countryside at the outstanding Ta' Frenc, a small complex of two-bedroom apartments that feature spacious living areas and private outdoor space. Light and breezy, the apartments have a quaint Mediterranean charm and feel far more luxurious than the price suggests.
All the apartments have two bedrooms and the complex is tailored towards families and friends travelling together. However, the cheap out of season rates mean that couples get more space for their money here than almost anywhere else in the country. Each apartment has copious lounge and dining areas that open out onto a private terrace or balcony, which overlooks the swimming pool and green countryside.
Every apartment has two bathrooms and a fully equipped kitchen, along with cable TV and strong signal Wi-Fi (free). Gozitan furnishings provide a local flair, with the fresh colours complementing the light feel of the apartments. All the accommodation is built around a landscaped garden of palm trees and indigenous flora, with the greenery providing shade around a peaceful pool area. Two-bedroom apartments are understandably popular with families so Ta' Frenc feels even more peaceful outside the school holidays.
Gozo is a small island and you can travel everywhere with a rental car. Cute villages and local attractions are within walking distance. It's also relatively easy to catch a bus to the beach or the captivating island capital of Victoria. Given the quality on offer, many guests are surprised at Ta' Frenc's price. While it is not the cheapest option, it's excellent value if you demand space and privacy.
Please note that some services and amenities may not be available during low season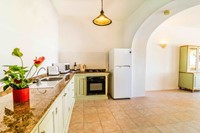 Full Self-Catering Facilities
The complex doesn't have a restaurant. However, the private kitchens are fully equipped and you can dine privately on your terrace or balcony. Victoria is two miles away and has a number of good restaurants and bars.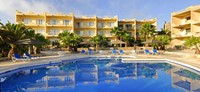 Space and Privacy
A large, soothing swimming pool is at the heart of the complex. Shaded by palm trees and lush vegetation it's an idyllic place to unwind. As there are only 26 apartments the pool area is quiet all year around.
Reviews
Where is the Ta Frenc Apartments?
Ta' Frenc Apartments are peacefully situated in the lush Gozitan countryside, just outside the village of Ghasi, two miles from Victoria. Island attractions and beaches can be reached using public buses, taxis or a rental car.
1 hour 40 minute transfer from Malta International Airport
Ta Frenc Apartments
Qawra